NISSAN TIRE SERVICE DEALS IN WILLMAR, MN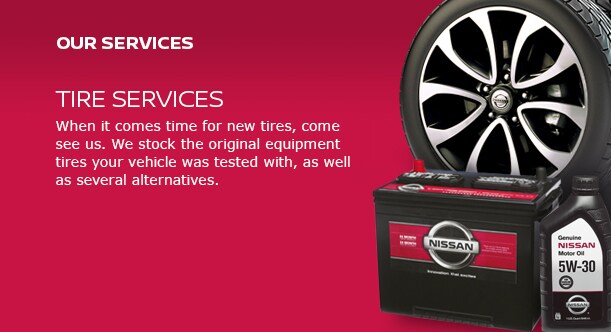 TIRE ROTATION AND BALANCE
Sale Price
$46.95
Stay on the go. Let us rotate and balance your tires!
*Certain restrictions apply. See Service Advisor for details. Price and offer availability may vary by model. Taxes and fees additional. No cash value. Must present offer to redeem. May not be combined with other offers. Nissan vehicles only. Void where prohibited.
NISSAN TIRE ROTATION AND BALANCE BASICS

Tire rotation (moving front tires to back, back tires to front) ensures your tires wear evenly over time, extending the lifetime of their safe operation.  Routine balance checks also assure your tires perform their best, wearing properly and providing a smooth ride.


KEEP YOUR NISSAN RUNNING GREAT

Without proper maintenance and inspection, tire tread patterns can wear down to create unsafe and or uncomfortable driving conditions. This can lead to some expensive repairs, or worse. As long as you get regular Nissan tire services at Mills Nissan in Willmar, MN you can avoid these expensive repairs.


MILLS NISSAN TIRE ROTATION AND BALANCE

If you're in need of Nissan Tire Rotation and Balance coupons, make sure to always check back each month. Mills Nissan always keeps up to date service savings on our website. Don't forget to print or save your Tire Rotation and Balance coupon before you come to visit our Willmar, Minnesota service department.


MILLS NISSAN HAS THE BEST PRICES ON A NISSAN TIRE ROTATION AND BALANCE

Mills Nissan has professionally trained Nissan service technicians and Genuine Nissan Parts to keep your vehicle running like the day it left the lot. We have advanced diagnostic technology to find and fix any wear and tear issues that may arise. We offer everything from advanced repair to regular interval maintenance such as: oil changes, brake services, wiper blade replacements and tire rotation / balance services.